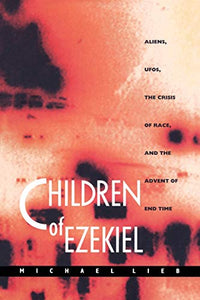 Author: Lieb, Michael
Brand: Duke University Press Books
Edition: Illustrated
Features:
Used Book in Good Condition
Binding: Paperback
Number Of Pages: 320
Release Date: 30-11-1998
Details: Are Milton's Paradise Lost, Ronald Reagan's "Star Wars" missile defense program, our culture's fascination with UFOs and alien abductions, and Louis Farrakhan's views on racial Armageddon somehow linked? In Children of Ezekiel Michael Lieb reveals the connections between these phenomena and the way culture has persistently related the divine to the technological. In a work of special interest at the approach of the millennium, Lieb traces these and other diverse cultural moments—all descended from the prophet Ezekiel's vision of a fiery divine chariot in the sky—from antiquity to the present, across high and low culture, to reveal the pervasive impact of this visionary experience on the modern world. Beginning with the merkabah chariot literature of Hebrew and Gnostic mysticism, Lieb shows how religiously inspired people concerned with annihilating their heretical enemies seized on Ezekiel's vision as revealing the technologically superior instrument of God's righteous anger. He describes how many who seek to know the unknowable that is the power of God conceive it in technological terms—and how that power is associated with political aims and a heralding of the end of time. For Milton, Ezekiel's chariot becomes the vehicle in which the Son of God does battle with the rebellious angels. In the modern age, it may take the form of a locomotive, tank, airplane, missile, or UFO. Technology itself is seen as a divine gift and an embodiment of God in the temporal world. As Lieb demonstrates, the impetus to produce modern technology arises not merely from the desire for profit or military might but also from religious-spiritual motives. Including discussions of conservative evangelical Christian movements, Reagan's ballistic shooting gallery in the sky, and the Nation of Islam's vision of the "mother plane" as the vehicle of retribution in the war against racial oppression, Children of Ezekiel will enthrall readers who have been captivated, either through religious belief or intellectual interests, by a common thread uniting millennial religious beliefs, racial conflict, and political and militaristic aspirations.
EAN: 9780822322689
Package Dimensions: 9.5 x 6.2 x 1.8 inches
Languages: English