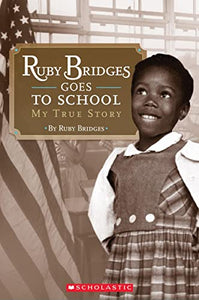 Author: Bridges, Ruby
Brand: Cartwheel Books
Edition: First Edition
Features:
Used Book in Good Condition
Binding: Paperback
Number Of Pages: 32
Release Date: 01-12-2009
model number: 9780545108553
Part Number: 9780545108553
Details: The extraordinary true story of Ruby Bridges, the first Black child to integrate a New Orleans school -- now with simple text for young readers! In 1960, six-year-old Ruby Bridges walked through an angry crowd and into a school, changing history. This is the true story of an extraordinary little girl who became the first Black person to attend an all-white elementary school in New Orleans. With simple text and historical photographs, this easy reader explores an amazing moment in history and celebrates the courage of a young girl who stayed strong in the face of racism.
EAN: 9780545108553
Package Dimensions: 9.0 x 6.0 x 0.2 inches
Languages: English