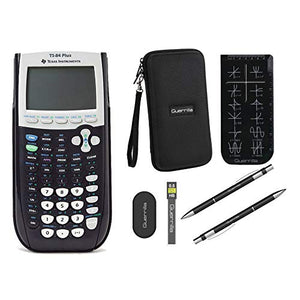 Brand: Texas Instruments
Color: Black
Features:
BUNDLE: Calculator + Case + Essential Graphing Kit!
item 1 - Texas Instruments TI-84 Plus Graphing Calculator
Item 2 - Guerrilla Hard Travel Case
Item 3 - Guerrilla's Essential Calculator Accessory Kit
Best Value!!
Binding: Office Product
model number: TI-84+G
Part Number: TI-84+G
Details: Expanded graphing technology performance comes preloaded with more than a dozen applications, including functionality that encourages exploration of interactive geometry, inequality graphing and real-world data collection and analysis.
EAN: 0811691025681
Package Dimensions: 10.6 x 7.6 x 1.8 inches